Preview
Valorant Preview: Helden, Gameplay und Details zu Riot Games neuem Taktik-Shooter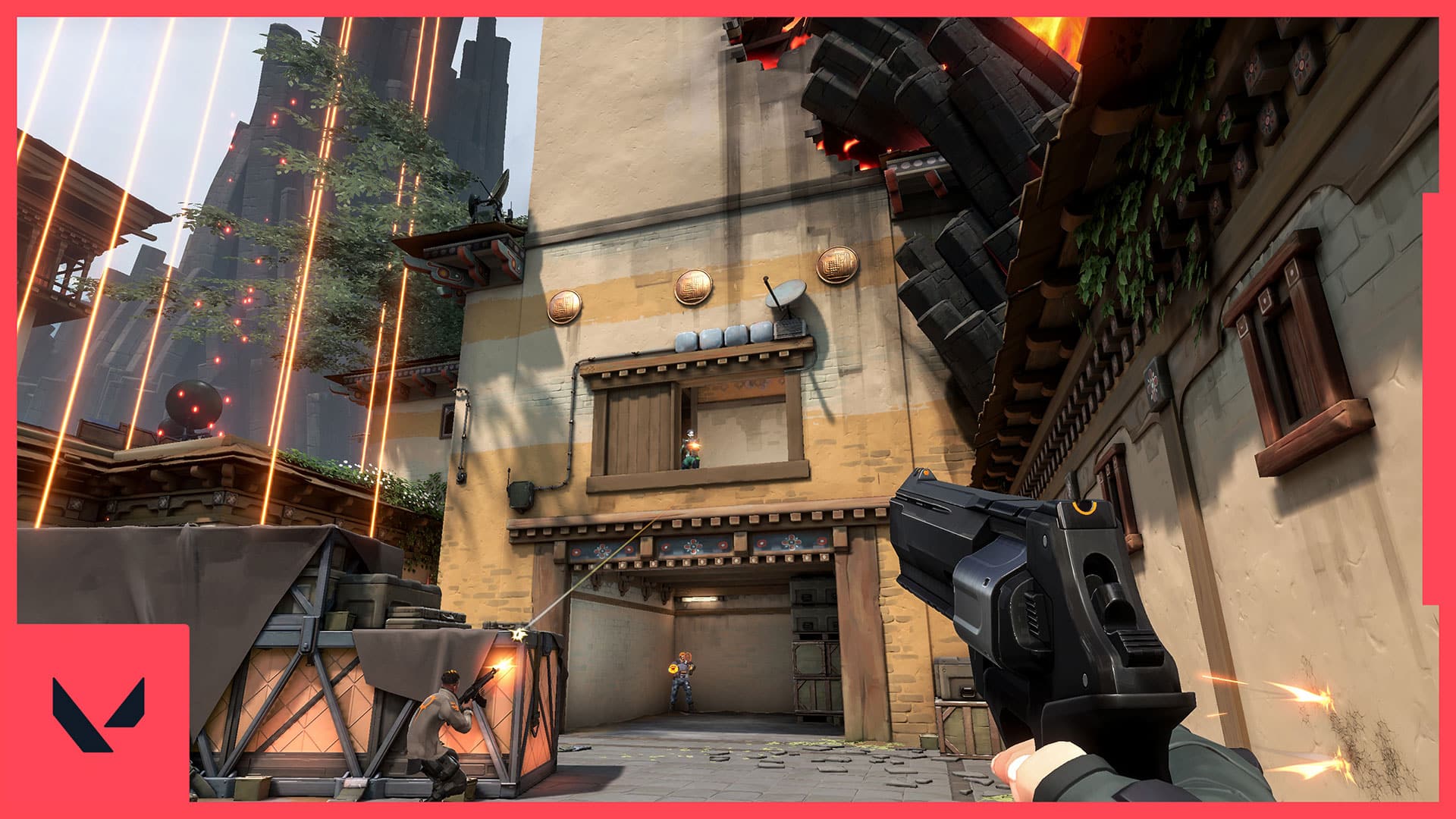 Valorant ist der neue taktische 5-vs-5 Shooter von Riot. Der Release ist auf den Sommer 2020 gelegt und es wird Free2Play sein. Ziel jeder Runde ist es eine Bombe zu legen und zur Explosion zu bringen oder eben dieses zu verhindern. Das Team, welches als erstes zwölf Runden gewinnt, entscheidet das gesamte Match für sich. Das ist soweit auch alles aus dem Klassiker CS:GO bekannt. Natürlich wird Valorant auch in weiteren Punkten Ähnlichkeiten mit CS:GO haben, aber es gibt ebenso viele neue, sehr interessante Features und Ideen. Wir wollen mal ein Blick darauf werfen, was schon alles bekannt ist.
Die Entstehung von Valorant
Valorant spielt in naher Zukunft auf der Erde. Eines Tages fand das weltweite Event "First Light" statt. Was genau da passiert ist, wissen wir noch nicht. Allerdings entwickelten die Charaktere dabei ihre übernatürlichen Fähigkeiten. Das sollte den Lauf der menschlichen Geschichte grundlegend verändern. Eine neue Regierung, sowie die Organisation Valorant wurden gegründet. Soweit der aktuelle Stand. Wie bereits bekannt, wird sich die Geschichte mit den Fortschritten des Spiels stetig weiterentwickeln.
Was wir aus einer Runde Valorant über das Game wissen
Vor Beginn des Matches wählt jeder einen Helden oder sogenannter Agent, welchen er für das restliche Spiel behält. Der Agent kann nicht während des Matches ausgetauscht werden. Die Runden sind typische Terroristen gegen Anti-Terror-Einheiten Szenarien. Es gilt die Bombe, auch Spike genannt zum explodieren zu bringen oder eben dies zu verhindern.
Ein großer Unterschied zu CS:GO welcher sofort ins Auge fällt, sind drei mögliche Bombenlegeplätze. Das verändert die Struktur und die taktische Herangehensweise gravierend. Die Mitte der Map muss nicht nur noch überwacht und gehalten werden. Es ist jetzt auch eine Legeplatz.
Zu Beginn des Spiels gibt es eine Buytime. Anschließend die Runde beginnt mit einem dreißig Sekunden Timer. Während dieser Zeit befinden sich auf der Karte blaue Barrieren, welche nicht überschritten werden können. In dieser Zeit kannst du nicht vorpushen und Informationen sammeln. Dieser Timer könnte als Gelegenheit für die Verteidiger gesehen werden, um sich vorzubereiten, da die Angreifer bestimmte Zonen der Map nicht sofort einnehmen können. Was genau das ausmachen wird, bleibt abzuwarten. Nachdem die dreißig Sekunden abgelaufen sind, startet der Hauptteil des Spiels, welcher 1:40 gehen wird.
Eine Vermutung durch die ersten Videos, welche noch nicht ganz bestätigt ist, ist dass die Teammates durch die Wände sichtbar sind.
Quelle: Riot Games
Zu Begin jeder Runde bietet sich dem Spieler die Option Waffen und Fähigkeiten zu kaufen. Hierfür dient das Kaufmenü. Auf den ersten Blick wird schnell klar, dass sich Riot hier sehr anwender- und vor allem anfängerfreundlich zeigt. Es ist sehr übersichtlich und leicht zu verstehen, da es keine Untermenüs gibt. Auf einen Blick kannst du alle möglichen Optionen strukturiert auffinden. Ähnlich wie bei CS:GO sind Pistols, SMGS,Rifles, Sniper, Shutguns und Heavy Waffen aufgelistet. Das Gunplay selbst wird eine große Rolle spielen. Wie genau sich die Waffen verhalten und welchen Schaden sie machen, wissen wir noch nicht. Wie in den ersten Videos zu sehen ist, wird es auch Waffen geben, welche mit einem Schuss tödlich sein können.
Auch das In-Game-Ökosystem ist dem aus CS:GO ähnlich. Unterschiedlich sind dabei die verschiedenen Optionen und dementsprechenden Preise. Da solltest du dich aber sehr schnell reinfinden.
Auch bei Valorant besteht die Möglichkeit sich Schilde zu kaufen. Dabei handelt es sich um Light und Heavy. Was genau das ausmacht, wissen wir noch nicht.
Die große Neuerung und somit auch der erste essenzielle Unterschied zu CS:GO ist, dass die Granaten durch Fähigkeiten ersetzt werden (Auf die Helden und deren Fähigkeiten wird im Verlaufe dieses Textes noch genauer eingegangen). Insgesamt sind vier Fähigkeiten pro Helden zu erwerben. Drei davon sind sofort durch Punkte käuflich, welche durch gutes Spielen erlangt werden. Hierbei handelt es sich vermutlich um eine extra Währung. Die sogenannte Ulti ist teurer und muss erst für die Freischaltung erspielt werden.
Am linken Bildrand des Menüs sind die Teammates aufgelistet. Du siehst dabei welchen Charakter sie gewählt haben, wie viel Geld ihnen zur Verfügung steht und welche Ausrüstung sie bereits besitzen. Oben links stehen dein verfügbares Geld sowie der Mindestbetrag für die nächste Runde. Das ist ebenfalls eine sehr anfängerfreundliche Neuerung, wodurch der Einstieg in das Ökosystem erleichtert wird.
Rechts am Rand werden deine möglichen Fähigkeiten erklärt. Hierfür einfach mit der Maus über die Fähigkeit fahren.
Unter dem eigenen Avatar besteht die Möglichkeit dem Team Kommandos zu geben: Let's buy, I have creds, Let's save. Das könnte eine Erleichterung der Kommunikation mit zufälligen Mitspielern gewährleisten. Ebenso ist es möglich Waffen anzufordern. Darauf kann eingegangen werden und der anfordernden Person wird diese Waffe direkt übergeben. Anders als bei CS:GO muss hierfür nicht gedropt und aufgehoben werden. Ob es Buyscripts geben wird, ist noch nicht bekannt.
Valorant-Agenten und ihre Fähigkeiten
Die Helden und deren Fähigkeiten sollen Valorant besonders machen und von CS:GO unterscheiden. Wie stark diese Fähigkeiten sein werden, lässt sich zu diesem Zeitpunkt noch nicht sagen. Wichtiger als die Fähigkeiten, welches als taktisches Element gesehen werden können, soll der Skill mit den Waffen sein.
Phoenix
Hot Hands – wirft Feuerball, welcher nach einem Delay oder beim Impact mit dem Boden explodiert. Feuerzone fügt Gegner Schaden zu und heilt "dich" (Vermutlich auch Teammates).
Blaze – beschwört eine Flammenwand, welche Gegnern die Sicht nimmt und Schaden beim Durchqueren verursacht. Wand lässt sich biegen.
Signature: Curveball – Gegner werden nach Explosion von Curving Flare geblendet.
Ulti: Run it Back – markiert aktuelle Position. Stirbst du während die Ulti aktiv ist oder läuft die Zeit ab, wirst du mit vollen Leben wiederbelebt (Phönix aus der Asche).
Jett
Cloudstrike – wirft eine Rauchwolke, welche Gegnern die Sicht nimmt.
Updraft – befördert dich nach kurzer Vorbereitung in die Luft.
Signature: Tailwind – schneller Bust über kurze Distanz in Bewegungsrichtung.
Ulit: Blade Storm – bewaffnet dich mit mehreren Wurfmessern, welche moderaten Schaden machen und Gegner beim Headshot killen. Für jeden Kill werden alle Dolche wieder aufgefüllt. Linksklick wirft einen Dolch, Rechtsklick wirft alle übrigen Dolche.
Viper
Snakebite – feuert ein Projektil ab, welches in einen Pool Acid explodiert.
Poison Cloud – wirft einen Gas Emitter, welcher reaktiviert werden kann, um Giftgas zugunsten des Treibstoffes einzusetzen. Der Emitter kann erneut aufgehoben und geworfen werden (Gaswolke, welche Schaden verursacht und aufgehoben werden kann).
Signature: Toxic Screen – legt eine Linie aus Gas Emittern um eine toxische Wand zu erschaffen. Kann reaktiviert werden auf Kosten von Treibstoff (Treibstoff als Art Mana?).
Ulti: Vipers Pit – entfesselt eine massive giftige Wolke, solange Viper drinsteht. Gegner in der Wolke werden für Viper aufgedeckt.
Sova
Shock Bolt – feuert einen explosiven Pfeil ab, welcher beim Aufprall pulsierende statische Energie abgibt.
Owl Drone – nutzt eine steuerbare Drohne, deren Pfeile die Position von Gegner nach Treffer enthüllt.
Signature: Recon Bolt – feuert einen Pfeil ab, welcher ein Sonar beinhaltet. Das Sonar taggt Feinde in der Nähe. Der Pfeil kann selbst zerstört werden.
Ulti: Hunters Fury – feuert bis zu drei tödlichen Energieschüsse ab, welche über die komplette Map fliegen. Mit jedem Schuss wird der Gegner markiert und nimmt schweren Schaden.
Omen
Paranoia – sende einen ätherischen Schatten in gerader Linie aus. Macht bei Berührung kurzsichtig/trübt die Sicht.
Shadow Walk – teleportiert dich nach einer kleinen Verzögerung über eine kurze Distanz.
Signature: Dark Cover – beschwört einen getarnten ätherischen Orb, welcher sich an seinem Zielort in eine Sphäre voller Schatten verwandelt. Kann aufgeladen werden, um Distanz zu erhöhen.
Ulti: From the Shadows – wählt einen Punkt auf der Karte aus, zu dem du dich teleportierst. Nach Ankunft bist du ein Schatten, welcher im Fall eines Todes an die ursprüngliche Position zurückkehrt. Nach der Teleportation kurz körperlos/unsichtbar.
Sage
Slow Orb – erschafft einen Orb, welcher nach Bodenkontakt ein Verlangsamungsumfeld erschafft. Jeder Betroffene wird verlangsamt, am Boden gehalten und verursacht mehr Bewegungsgeräusche.
Barrier Orb – erschafft eine lange, massive Wand. Rechtsklick um Richtung zu ändern.
Signature: Healing Orb – heilt einen Verbündeten oder dich selbst für mehrere Sekunden, bis volles Leben erreicht ist.
Ulti: Resurrection – nach einem kurzen Delay, wird ein Teammate mit vollen Leben wiederbelebt.
Brimstone
Incidiary – verschießt eine Brandgranate, welche ein Feuerfeld erschafft.
Stim Beacon – wählt eine Position in der Nähe aus, um ein Leuchtfeuer zu rufen. Gewährt Rapidfire für Spieler in der Nähe.
Signature: Sky Smoke – Karte benutzen um ein orbital verteiltes Rauchfeld zu erschaffen, welches die Sicht einschränkt.
Ulti: Orbital Strike – markiert einen Punkt auf der Karte, um einen Luftschlag anzufordern. Hoher Schaden!
Cypher
Trapwire – platziert einen getarnten Stolperdraht zwischen zwei Wänden. Betroffene Gegner sind kurzzeitig aufgedeckt und festgehalten.
Cyper Cage – wirft eine Falle, welche per Zünder aktiviert wird. Reaktivierung erschafft einen Käfig, welcher den Gegner beim Überqueren verlangsamt. Falle anschauen und benutzen zum Detonieren.
Siganture: Spycam – platziert eine Überwachungskamera. Linksklick aktiviert Trackingdart.
Ulti: Neural Theft – untersucht die Leiche eines Gegners und deckt die Position seiner Verbündeten auf.